John D. Gerhart Center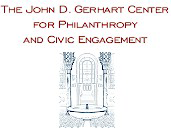 The Gerhart Center is a university-based institution offering resources for the promotion of philanthropy and civic engagement in the Arab world. Established in 2006, the Center aims to further the American University in Cairo's (AUC) mission to advance social responsibility and active citizenship.
It's mission is to promote social change in the Arab region through building a culture of effective giving and civic responsibility.
It's work on civic engagement includes interfacing with Arab universities to become more engaged with their surrounding communities and promoting cross-cultural understanding and diversity through international programs with a focus on local community service. The Center encourages community based learning (CBL) as a
fundamental approach to effective teaching and foster social innovation through student leadership programs, seminars for young professionals, and programs to link government institutions with civil society organisations.
On philanthropy it acts as a catalyst providing technical consulting services to start-up and expanding philanthropic institutions in the Arab region. They also work with the private sector to deepen the understanding of the principles of Corporate Social Responsibility (CSR). They document the status of Arab philanthropy while highlighting best practices, and promote networking opportunities and strategic alliances for enhanced philanthropy in the Arab region and internationally.
The Gerhart Center also engages in research and documentation on subjects ranging from motivations of youth activism to mapping of Arab philanthropy and disseminates information widely through a quarterly newsletter, a series of scholarly working papers and website.