STARS Foundation
STARS Foundation is dedicated to transforming the lives of the world's most disadvantaged children and young people. This is achieved through two key programmes: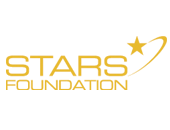 Launched by Her Majesty Queen Rania Al Abdullah in 2007 the STARS Impact Awards reflect the foundations belief that local organisations are best placed to respond to the needs of their communities and the children in their care. The Impact Awards identify, recognise and reward local NGOs achieving excellence in the provision of health,education and protection services to
children and encourage NGOs to evaluate and invest in their organisational strength. Each year, six applicants receive a distinctive package of support helping them to become more effective and resilient.
STARS Impact Partnerships is an international corporate / NGO engagement programme improving the lives of children and young people through collaborative working. The programme helps NGOs reaching the final stages of the Impact Awards evaluation process to access practical support from companies and their employees in mission-critical areas such as governance, communications, human resources, information technology, strategy and fundraising.
For further information visit:
www.starsfoundation.org.uk