1001 Inventions
The "1001 Inventions: Discover the Muslim Heritage in our World" is a unique non religious - non political global educational initiative aiming to raise awareness of Muslim Civilisation's contribution to science and technology in our modern world.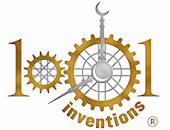 This international initiative is developed by the academic organisation, The Foundation for Science Technology and Civilisation. There is at present a widespread misconception amongst many people worldwide that the development of
science and technology during the period known as the "Dark Ages" was that of stagnation and decline. The contrary is true.
Through a process of education and learning, 1001 Inventions aims to challenge this myth and to celebrate the fact that the Muslim civilisation contributed in a major way to our present day progress.
Over a million people have visited the 1001 Inventions global touring exhibition. The award winning 1001 Inventions films became a huge hit on the internet. Over 100,000 copies of the 1001 Inventions book are being distributed globally and schools around the world are benefiting from the 1001 Inventions School Activity Packs.