The Al Madad Foundation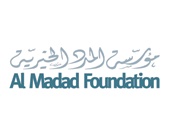 The Al Madad Foundation, a charitable institution registered in the UK in 2001, is committed to increased inter-cultural awareness to help alleviate problems of poverty and exclusion.
Through artistic expression, multi-media, educational projects and events and inter-cultural dialogue, we seek to educate and engage international actors to join us in developing and supporting programs to address these problems.
START and Silent Witnesses are Al Madad Foundation projects.
For further information visit:
www.almadadfoundation.org