FACE
FACE's mission is to assist and protect orphans, street children, their families and communities, regardless of race, culture or religion.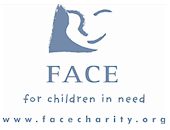 FACE endeavours to equip these children for a better life, to instil them with self-esteem and hope, by providing them with the means to become strong adults in society.
FACE has four up and running projects in and
around Cairo, Egypt. Working at a grassroots level to identify the needs on the ground, FACE creates practical, innovative projects with children, to provide long-term sustainable solutions to lay the foundations for a brighter future. FACE was born in 2003, to a mother of 3 young children. Since then, it has grown into a family of over 90 staff with six projects underway.
"Without continual growth and progress, such words as improvement, achievement, and success have no meaning."
Benjamin Franklin, 1706-1790